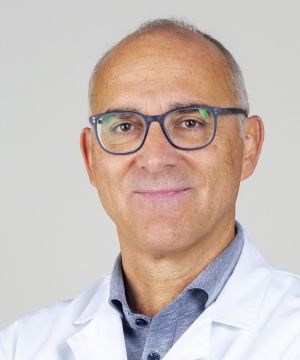 Alexander Moeller is the head of the Division of Respiratory Medicine, the Pediatric Cystic Fibrosis Center and the Center for Sleep Medicine at the University Children's Hospital Zurich, Switzerland. He is co-president of the Swiss Working Group for Cystic Fibrosis (SWGCF), member of the executive board of the Swiss Society of Paediatric Respiratory Medicine (SGPP) and vice-president of the Swiss Society for Sleep Research, Sleep Medicine and Chronobiology (SSSSC). Since 2020 he is the secretary of the European Respiratory Society (ERS) pediatric assembly.
Prof Moeller trained at University Children's Hospital Zurich and Princess Margaret Hospital in Perth, WA and obtained his postdoctoral lecture qualification at the University of Zurich (UZH) 2010 and is adjunct Professor at UZH since 2018. He runs a very active specialist clinical service for the whole range of paediatric pulmonology and is leading an active research group at University Children's Hospital Zurich. His main research focus is the non-invasive assessment of airway inflammation in children by breath analysis and he is involved as PI in clinical trials in the context of the European Cystic Fibrosis Society Clinical Trial Network (ECFS-CTN). He is leading the Pediatric exhalomics Group in Zurich, member of the research consortium Zurich Exhalomics a flagship project of Hochschulmedizin Zurich.
Prof Moeller is an associate editor for the Journal Pediatric Pulmonology. He has authored over 80 papers and book chapters on paediatric respiratory diseases.
Website: https://www.kispi.uzh.ch/kinderspital/person/moeller-alexander#akademischer-werdegang